The U.S. Secret Service warns the proliferation of "movie money" or "prop money" sold online is creating problems for police and confusion for businesses. Look closely and you can see the words, "PROP MONEY" printed on the edge of some of the bills, others are marked "For Motion Picture Use Only."
Other examples of prop money don't have the same security measures as authentic bills. Retailers may notice the paper doesn't have the same quality as U.S. currency and lacks the security fibers embedded throughout the paper. Additionally, prop money doesn't have watermarks, color-shifting ink or security thread.
Police warn that prop money, originally created for the motion picture industry, isn't just appearing on the big screen. Crooks are trying to pass off movie money as the real thing.  Prop money qualifies as counterfeit under federal law, according to the U.S. Secret Service. Trying to pass movie money off as real is illegal.
Law enforcement admits various types of counterfeit currency surface from time to time. In 2018, the Secret Service estimated $107 million in counterfeit U.S. currency was in circulation.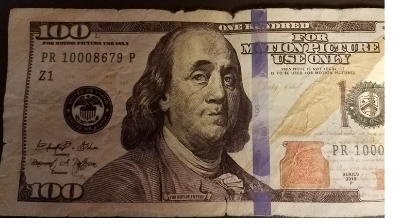 (Sample Image)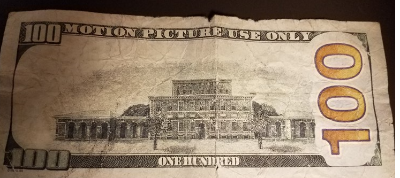 (Sample Image)
Mobile Banking Safety Tips
NO MATTER WHAT KIND OF MOBILE BANKING METHOD YOU USE, REDUCE FRAUD AND PROTECT YOUR MONEY BY FOLLOWING A FEW PRECAUTIONS
Do not give out your mobile account information, password, or user ID.


Do not leave your mobile device unattended while you are logged into your banking account.


Do not send privileged account information (account number, password, etc.) in any public or general e-mail system.


Notify us immediately if you receive an alert about activity that you did not initiate.  It is possible that access to your account has been compromised and an immediate response may be necessary.


If you are unable to access our site, please notify us immediately. This may be an indication that either your account or the Bank's site is subject to criminal activity.


Lock your phone with a PIN to prevent unsophisticated takeover of your bank account.


Do not download software from unofficial or unfamiliar sources which can result in downloading viruses of malware.


Do not allow a vendor to "jail break" your phone (it can eliminate or diminish inherent phone security features).


Update security applications as soon as the updates are available to reduce your phone's security vulnerabilities.


Eliminate or uninstall applications that you do not use.


Load anti-virus software from a legitimate vendor.


Be careful who you allow to use your phone.


Be careful in disposal of your phone to ensure that information about you, your contacts or your banking security access is not on the phone.


Be aware of what your phone can access and what would be at risk if your phone was lost or stolen. If you suspect your mobile device has been lost or stolen, notify us immediately by calling (407) 745-4545 or (321) 784-8333 so we can disable your mobile banking application.
Eight things that your bank will never ask you - but a fraudster will!
 
Sunrise Bank will NEVER call you to ask for your personal information or contact you via an automated system in order to offer our products or services.
Ask you to carry out a "test" transaction online.  Criminals pretending to be from a bank sometimes email customers asking to perform a "test" transaction online because of technical problems.


Send an email with a link to a website that asks you to enter your online banking credentials. This is the well- known "phishing" scam.


Ask you to email or text any personal banking information even if the email address appears to belong to the bank.


Call or Email to ask you for your full pin or any online banking passwords. If the bank does contact you to verify account information, we would only ask security questions provided by you.


Send someone to your home to collect cash, bank cards or anything else. Criminals may say they are sending an official courier to your home that will have bogus official identification.


Ask you to authorize the transfer of funds to a new account or hand over cash. Often criminals, posing as a bank employee, will instruct their target to transfer money into a new safe account and claim your account is under threat.


Provide banking services through any mobile apps other than the bank's official apps. To download a mobile banking app, follow the link from its official website.


Call to advise you to buy diamonds, land or other commodities. Reputable investment firms do not cold- call.

Get a one-ring call? Don't call back.
May 7, 2019

FROM THE FEDERAL TRADE COMMISSION: CONSUMER INFORMATION
A while back, we warned you about the "one ring" scam. That's when you get a phone call from a number you don't know, and the call stops after just one ring. The scammer is hoping you'll call back, because it's really an international toll number and will appear as a charge on your phone bill — with most of the money going to the scammer. Well, the scam is back with a vengeance, and the FCC just issued a new advisory about it. Read the FCC's advisory for more detail, but the advice from both agencies remains the same if you get one of these calls:
Don't call back

Always check your phone bill for suspicious or unusual charges!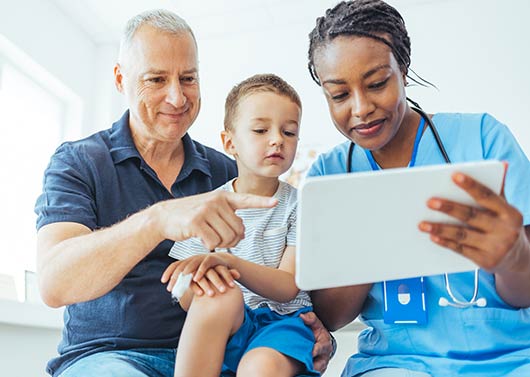 Health savings
Invest more in your health care.
Available to those who are enrolled in a High Deductible Health Plan (HDHP).